Annotowatch at MSM 2013 IE Challenge
Our team has recently participated in MSM 2013 IE challenge, where we finished at the 2nd place, just 1% in F1 measure behind the first one. We have participated with approach named Annotowatch.
The challenge took place at MSM 2013 workshop, which was a part of WWW 2013 conference.
The goal of the challenge was to recognize entities such as people, organizations, locations and miscellaneous (e.g. names of the movies) in tweets.
More information:
| | |
| --- | --- |
| | |
| Stefan Dlugolinsky (left) representing our team with the winner Mena Habib (right) | Annotowatch poster |
Challenge organizers have selected 6 best teams out of 17 received submissions to present their solutions at MSM 20013 workshop. Results were announced at the workshop on 13th May 2013. We have finished first in Recall, and second in Precision and F-measure. See details here, the number of our Annotowatch solution is 21.
The number of our submission was 21. Photo from the winner announcement presentation: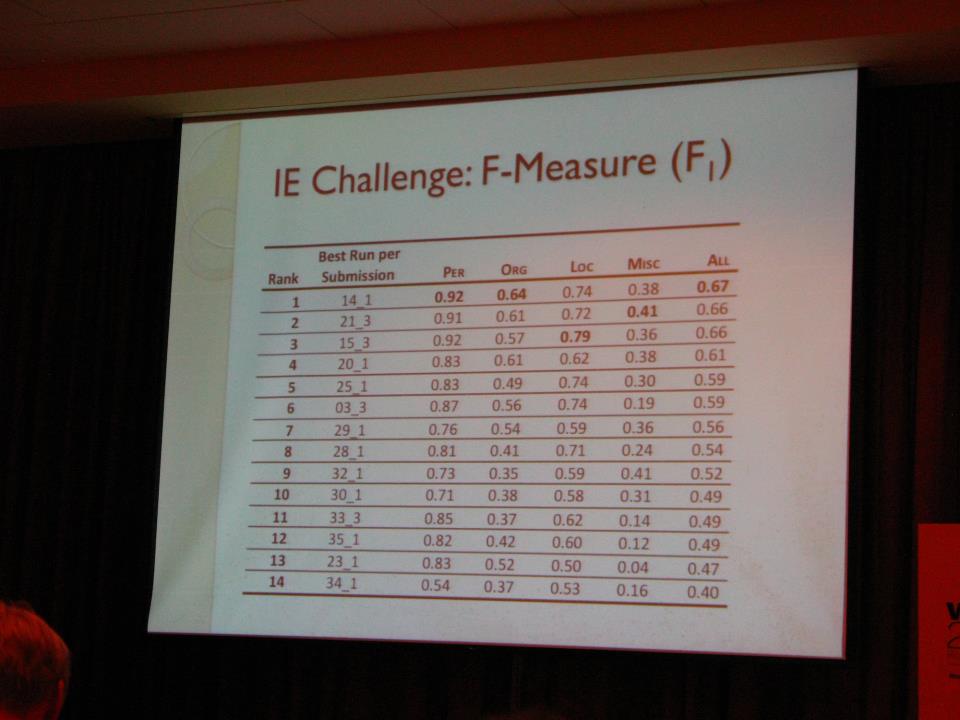 Screen shot from the EasyChair showing the number of our submission: